[[ZEITGEIST]]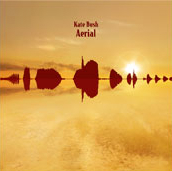 Kate Bush 'Aerial'
I was eagerly anticipating the release of this one, and I must say it does not disappoint. I particularly love the use of birdsong mixed with Kate's own vocals. Wood pigeons form a chorus intoning that the 'sea and sky are full of honey'. Blackbirds' song mixed with human laughter. It seems that with Kate, metaphorical allusions no longer need to be spoken of; they can be demonstrated - it's just genius really! I was intrigued when I heard Kate Bush's new album was going to be called 'Aerial'. I wondered if it was a nod to Sylvia Plath's elegiac last book of poems -
Ariel
? Seems not: the dominant emotion in Kate's work is joy. The connection is interesting though, I wonder if Plath served as Bush's educator in the same way that Shopenhauer served as Nietzsche's?
"...for your true nature lies, not concealed deep within you, but immeasurably high above you, or at least above that which you usually take yourself to be. Your true educators and formative teachers reveal to you what the true basic material of your being is, something in itself ineducable and in any case difficult of access, bound and paralysed: your educators can be only your liberators. (UM3:129)"
Implicit in Nietzsche conception of an educator, is the notion that eventually the educator will be ultimately transcended. It is tempting to draw connections between Bush and Plath, so I will! Perhaps by entitling her work 'Aerial', Kate feels confident enough to both acknowledge Plath's influence and transcend it at the same time???
Now a more fatuous remark about Kate Bush's return. Has anyone tried to navigate her website yet? If you fancy your chances go
here
. It is very beautiful but just a little too controlling (metaphor for Kate?). Anyway, I think Kate needs to consult with Jacob Nielsen as well as with her other artistic muses on future designs!
Links
The text for Shopenhauer as educator can be found
here
The Kate Bush fanzine homegound can be found
here